Description
It's all about the teams, the rivals and the race in an intense new world of professional motorsport.
NOTICE: Requires the base game GRID Autosport in order to play. Activation key must be used on a valid Steam account, requires internet connection.
ABOUT THE GAME
---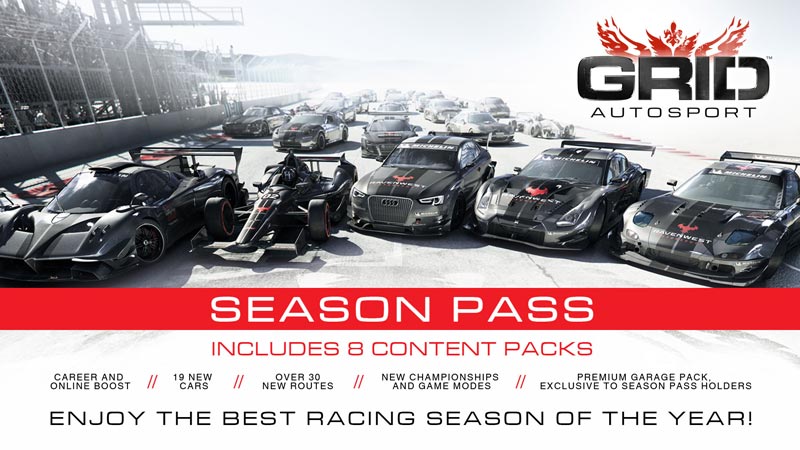 Download the DLC Season Pass and receive access to 8 Content Packs as they become available at a saving compared to buying each pack individually. This content will include new routes, cars, game modes and an exclusive Premium Garage Pack, allowing you to expand your online car collection with 5 new slots.
SYSTEM REQUIREMENTS
---
Minimum
Operating system: Windows Vista, Windows 7 or Windows 8
Processor: Intel Core 2 Duo @ 2.4Ghz or AMD Athlon X2 5400+
Memory: 2 GB RAM
Video: Intel HD3000 or AMD HD2000 Series or NVIDIA Geforce 8000 Series Series
Sound: Direct X compatible soundcard
Additional Notes: Supported Graphics Cards •Intel HD3000 Series, HD4000 Series, HD5000 Series • AMD Radeon HD2000 Series, HD3000 Series, HD4000 Series, HD5000 Series, HD6000 Series, HD7000 Series, R7 Series, R9 Series • NVIDIA GeForce 8000 Series, 9000 Series, GTX200 Series, GTX400 Series, GTX500 Series, GTX600 Series, GTX700 Series • AMD Fusion A8 or higher
Recommended
Operating system: Windows Vista 64 bit, Windows 7 64 bit or Windows 8 64 bit
Processor: Intel Core i7 or AMD FX Series
Memory: 4 GB RAM
Video: Intel HD5200 or AMD HD7000 Series or NVIDIA GTX600 Series minimum 1GB RAM
Sound: Direct X compatible soundcard
---
© 2014 The Codemasters Software Company Limited ("Codemasters"). All rights reserved. "Codemasters"®, "Ego"®, the Codemasters logo and "GRID"® are registered trademarks owned by Codemasters. "GRID Autosport"™, "Codemasters Racing"™ and "RaceNet"™ are trademarks of Codemasters. All other copyrights or trademarks are the property of their respective owners and are being used under license. Developed and published by Codemasters
Minimum
Operating system: Windows Vista, Windows 7 or Windows 8
Processor: Intel Core 2 Duo @ 2.4Ghz or AMD Athlon X2 5400+
Memory: 2 GB RAM
Video: Intel HD3000 or AMD HD2000 Series or NVIDIA Geforce 8000 Series Series
Sound: Direct X compatible soundcard
Additional Notes: Supported Graphics Cards •Intel HD3000 Series, HD4000 Series, HD5000 Series • AMD Radeon HD2000 Series, HD3000 Series, HD4000 Series, HD5000 Series, HD6000 Series, HD7000 Series, R7 Series, R9 Series • NVIDIA GeForce 8000 Series, 9000 Series, GTX200 Series, GTX400 Series, GTX500 Series, GTX600 Series, GTX700 Series • AMD Fusion A8 or higher
Recommended
Operating system: Windows Vista 64 bit, Windows 7 64 bit or Windows 8 64 bit
Processor: Intel Core i7 or AMD FX Series
Memory: 4 GB RAM
Video: Intel HD5200 or AMD HD7000 Series or NVIDIA GTX600 Series minimum 1GB RAM
Sound: Direct X compatible soundcard
Publisher: Codemasters
Date Released: 2014-06-27